victim Information and Notification Everyday/ Washington Statewide SAVIN:
www.vinelink.com
VINE Service Number
1-877-846-3492
Federal Vureau of Prisions Victim Notification Program:
Victim Notification System (VNS)
www.Notify.USDOJ.gov
DSHS Victim / Witness Notification Program:
www.dshs.wa.gov
call: 1-800-422-1536

CLEAR (Legal Assistance Hotline)
www.nwjustice.org/clear-online
Call: 1-888-201-1014
Washington Law Help:
Http://www.washingtonlawhelp.org/WA/index.cfm
Federal Trade Commission:
ID Theft/Fraud
www.ftc.gov
Money Munk
Identity Theft
https://www.moneymunk.com/
https://www.moneymunk.com/identity-theft/
ID Theft Resource Center:
www.idtheftcenter.org
Credit Fraud Alert:
Experian- 1-888-397-3742
Trans Union: 1-800-680-7289
Equifax: 1-800-525-6285
Free Annual Credit Report:
Annualcreditreport.com
211
www.win211.org
1-800-Victims:
state of California
www.1800victims.org
1-800-victims
Washington State Crime Victim Service Center HOtline (WACVSCH):
www.wacvschotline.org
1-888-288-9221
Psychology Today
Seeking Thereapy:
www.psychologytoday.com
National Center for Victims of Crim -NCVC:
www.victimsofcrime.org
1-202-467-8700
Archstone Behavioral Health
Website:
https://archstonerecovery.com
Address: 501 W Perry St, Lantana, FL 33462, United States
Phone: +1 561-571-9056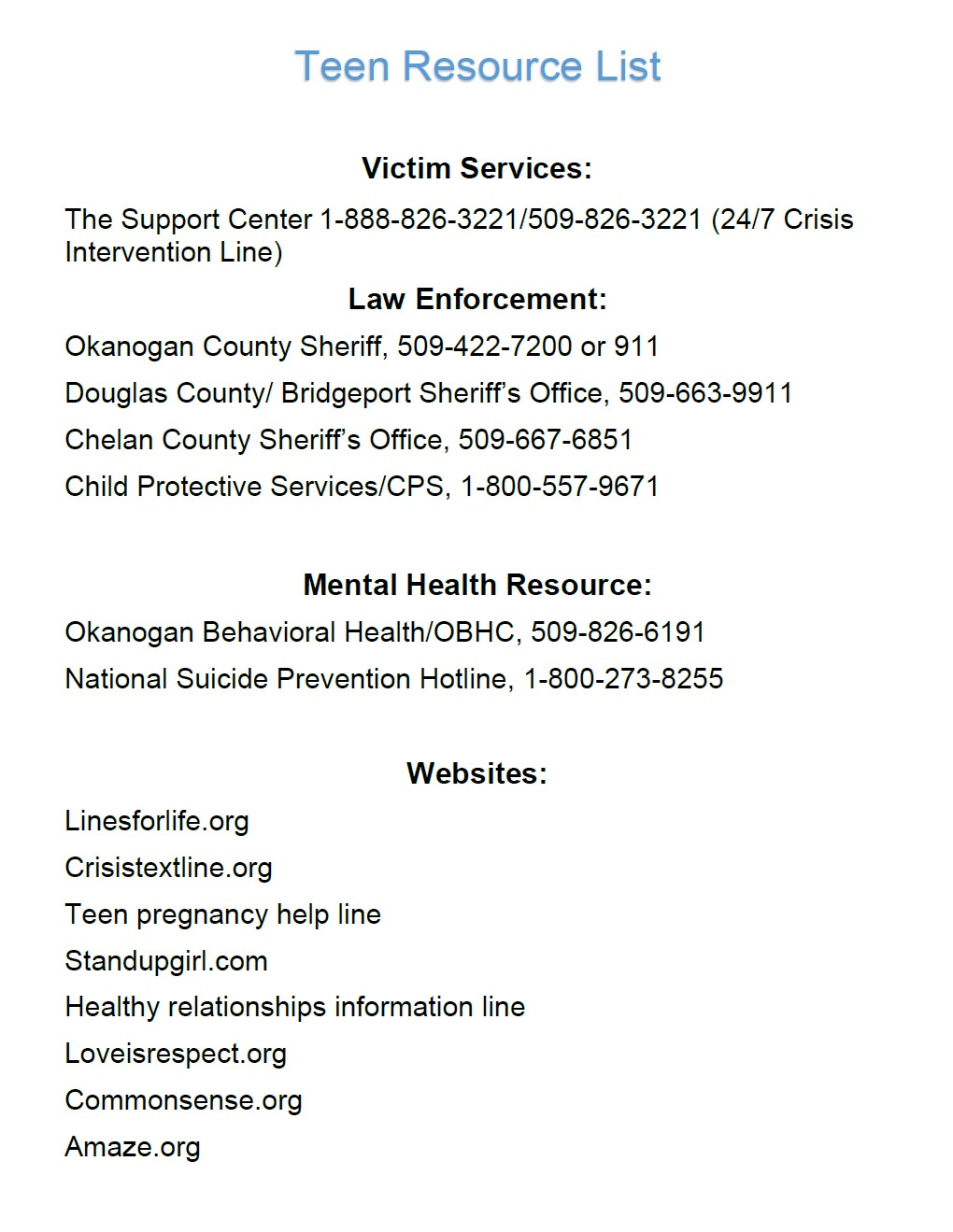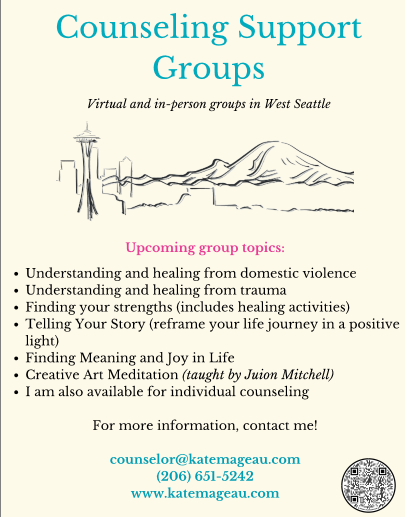 In person or virtual, if you are interested, please ask The Support Center about possible discounts!!
If you need help filing court documents you can do so online at the link below, if you have questions feel free to contact them directly or us at The Support Center 509-826-3221.
LegalAtoms.com | cell:
425.502.0111 |
2500 Western Ave, Suite 722 Seattle WA 98121 |
LinkedIn |
Twitter |
Facebook
Subsidized and Low Income Housing in Okanogan County
For a list of subsidized and low income housing in Okanogan County
Click Here
OKANOGAN COUNTY SCHOOL DISTRICT
HOMELESS LIAISONS
Liaison School District Phone Number
Dianne Johnson Brewster (509)689-3449 x210
Lois Garland Methow Valley (509)996-2215
Julia O'Connor Okanogan (509)422-5414
Racie McKee Omak (509)826-7680
Oroville (509)476-3332
Julia O'Connor Tonasket (509)422-541
PRIMARY RESOURCES
The Support Center (509)826-3221
Okanogan County Housing Authority (509)422-3721
Oroville Housing Authority (509)476-3059
Community Action (509)422-4041
Manfisher Ministries (509)826-5699
Family Empowerment (Clothing Bank) (509)422-5414
Family Health Centers (509)422-5700
Family Health Centers Dental Clinic (509)422-6705
Family Planning (509)422-1624
DSHS—To apply for TANF or Food Stamps on-line:
Click Here
Food Banks Hours:
Brewster: Thursday, 9:00-10:30
123 Indian Avenue Episcopal Church Basement
Conconully: Every 1st & 3rd Wednesday 1:30-3:00
Conconully Town Hall
Okanogan: Monday & Thursday, 9:00-11:00
Community Action; 424 2nd Avenue South
Omak: Monday & Thursday, 9:00-11:00
101 West 4th Avenue
Oroville: Thursday, 9:30-11:30
Basement of Seventh Day Adventist Church
Tonasket: Thursday, 9:00-11:00
300 South Whitcomb Avenue (Main Street next to Tiger's Den)
Twisp: Thursday, 1:00-4:00
The Cove, 128 Glover Street, Twisp
Wauconda: Every 1st & 3rd Thursday 1:00-2:00
Wauconda Community Hall; 129 Troda Creek Road
Adult Protective Services (Vulnerable adults)
509-846-2103
1-800-459-0421
1-866-363-4276
Adult & Adult Care (Respite Care / COPES Program)
509-826-7452
1-888-437-4147
Aging & Disability Services (Vulnerable adults & Children)
1-866-363-4276
Al-Anon
509-486-2093
Career Path Services
509-826-2417
Child Protective Services & Referrals for Abuse & Neglect of children
1-800-557-9671
Local office - 1-800-869-4018
Fax - 1-509-826-7440
Chemical Dependency Program OBHC
509-826-5600
Child Development for Birth to 3years
509-826-6191
CLEAR (free legal services for low income)
1-888-201-1014
over 60 years of age call 1-888-387-7111
TDD 1-888-201-9737
CLEAR DV Line 1-888-201-1012
Colville Tribal Services:
Behavior Health: 509-634-2610
Food Distribution: 509-634-2767 FAX- 509-634-2795
Law Enforcement: 509-634-2472 FAX- 509-634-2486 Toll Free: 1-800-551-5800
TCFS: 509-634-2637 FAX- 509-634-2633 Toll Free: 1-800-658-4535
Tribal Court: 509-634-2500 FAX- 509-634-2511 Toll Free: 1-800-440-1457
Nespelem TANF: 509-634-2290 FAX- 509-634-2742 Toll Free: 1-866-202-0471
Omak TANF: 509-422-7403 FAX- 509-422-7421
Tribal Prosecutor: 509-634-2462 FAX- 509-634-2497
Tribal Public Defender: 509-634-2450
Link caption
Link captionOmak Food Bank distributes free food, groceries, and meals throughout the community. Call (509) 826 – 1717.
Salvation Army Centers provide referrals, family services, and may have emergency assistance programs. A focus is on income qualified families with children, the disabled, and seniors in Okanogan County Washington. Some cash may be available for paying heating bills, utilities, or rental costs, however it is rare and has restrictions. Other resources include free Christmas programs (Angel Tree), job counseling, and ongoing case management from social workers.
Continue.
St James Episcopal Church – Food and support is offered to people in Brewster and Pateros areas of Washington. The center is located at 515 W Indian Avenue, Brewster, Washington, 98812.
Okanogan County Community Action Council is located at 424 South 2nd Avenue, Okanogan, Washington 98840, and can be reached at (509) 422-4041.
The Housing Authority of Okanogan County may have some rent and housing programs, such as section 8 vouchers, for families facing imminent threat of homelessness or those who are currently without a home. Income limits are in place, and resources are offered for the elderly, seniors, and children from low income families. 110 Oak Street, Okanogan, WA, 98840, main number is (509) 422 - 3721
The Cove can be reached at (509) 997 – 0227. Resources can help address both short and long term needs. This can include assistance with car repairs, money for paying rent and utility/heating bills, and other aid. Another service in high demand is free food programs.
Washington State Mental Health Crisis Lines:
If there is a life-threatening emergency, please call 911.
Suicide Prevention (800) 273-8255 TTY Users (800) 799-4TTY (4889)
Mental Health Ombudsman
Aging & Adult Care of Central Washington
Attn: Jeff Howard
1336 S. Pioneer Way, Suite 103
Moses Lake, WA 98837-2410
Phone: (800) 346-4529
Fax: (509) 766-2573
Email:
howarj@dshs.wa.gov
Okanogan Behavioral Health Care(509) 826-6191
1007 Koala Drive
Omak, WA 98841-3208
Alternative languages available: Spanish
Okanogan Behavioral Healthcare and Medical Clinic
Chief Executive Officer: Roger Bauer
Omak Office
1007 Koala Drive
Omak, WA 98841
Local: (509) 826-6191
Out of Area: (866) 826-6191
Fax: (509) 826-3029
TTY Line: (509) 826-2113
After Hours & Emergencies:
(509) 826-6191
(866) 826-6191
Web:
www.okbhc.org
Tonasket Outreach
17 S. Western Street
Tonasket, WA 98855
Local: (509) 486-0902
Out of Area: (866) 826-6191
Fax: (509) 486-2243
TTY Line: (509) 826-2113
After Hours & Emergencies:
(509) 826-6191
(866) 826-6191
Brewster Outreach
507 Hospital Way
Brewster, WA 98812
Local: (509) 689-2065
Out of Area: (866) 826-6191
TTY Line: (509) 826-2113
After Hours & Emergencies:
(509) (509) 826-6191
(866) 826-6191